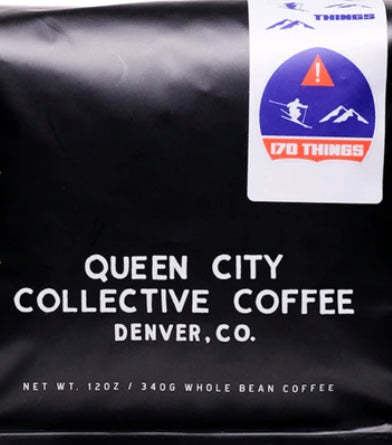 Pasture Provisions is excited to be partnering with Queen City Coffee to provide sustainable coffees sourced from the world's best coffee-growing regions across the Americas and Africa.  We choose Queen City Coffee as our coffee partner because we share many of the same principles including supporting sustainable farming and forming direct and lasting partnerships directly with the farmers.
Featured Roast:
Rotating roaster's choice // right now - Matagalpa, Nicaragua
Blend of two lots one washed, one natural

The coolest collab of the year is finally here! QC & I-70 Things are teaming up to provide all of y'all with the energy you need to have a blast on your mountain adventures. This collaboration was created to bring together two companies that share similar values while supporting two local non-profits based here in beautiful Colorado.

For every bag of I70 Things coffee you buy, you're giving a $2 dollar donation split equally to The National Sports Center for the Disabled and Colorado Neighborhood Uplift. Here are some deets on these amazing folks that we're proud to support:

Based in Winter Park and Denver, The National Sports Center for the Disabled provides therapeutic recreation, competition, and adaptive sports for children and adults with disabilities.
Based in Denver, Colorado Neighborhood UpLift promotes effective initiatives that help diversify the mountains here in Colorado by providing free equipment rentals, free lessons to beginners, free lift tickets, and transportation in order to decrease the barrier of entry to snow sports for minorities across the state.

Our goal is to provide the best-tasting coffee possible while positively impacting our communities both here in Colorado and at origin where coffee is grown. We'll be rotating the coffee for this collab but we're launching with an organic coffee grown under bio-dynamic protocols by the amazing Corrales family in Matagalpa, Nicaragua. The conditions of this coffee's production protect Matagalpa's biodiversity and watersheds while minimizing farm workers' exposure to toxic chemicals.  
WE BELIEVE THAT HONEST RELATIONSHIPS, FROM FARMERS TO CONSUMERS, ACHIEVE AN EQUITABLE AND SUSTAINABLE COFFEE SUPPLY CHAIN.
In many ways, Queen City started in the mid-2000s while we worked, researched, and played in rural Africa. From Zimbabwe to Rwanda, we spent nearly a decade coordinating humanitarian programs, organizing research projects, and kicking around on humble soccer fields with friends. We learned about community in Africa — real, honest community.
Life eventually brought us back to our roots, back to Colorado and the great city of Denver. Along the way, we indulged our passion for coffee by moonlighting as baristas and roasters, and this made our next project an easy progression — we love our farmer friends + we love our city, the Queen City of the Plains + we love coffee — so we started a company that combines all these things!
Collective coffee means we're doing this together — we have real, tangible connection with our coffee farmers; we know the conditions of their production; we then small-batch roast their coffee in the city we love and we proudly serve it in Denver's historic Baker neighborhood. We believe everyone is welcome to this ragtag group because good coffee should build the collective good.