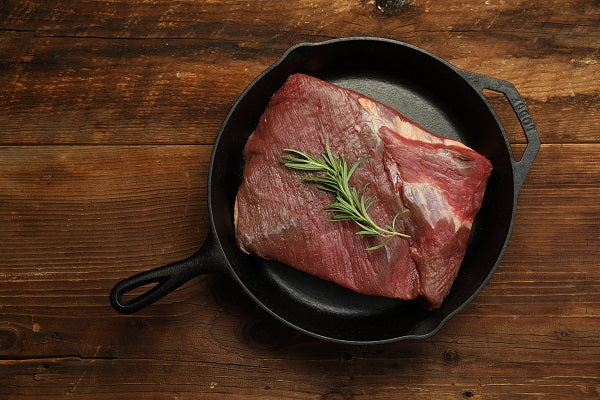 Our grass-fed brisket flats are the perfect cut to make home-made corned beef or for low and slow smoke.    
Homemade Corned Beef Recipe

Author Colleen @growforagecookferment

Ingredients
Pickling Spice Blend
1 Tbsp black peppercorns
1 Tbsp mustard seeds
1 Tbsp coriander seeds
1 Tbsp red pepper flakes
1 Tbsp allspice berries
1 Tbsp juniper berries dried
1 Tbsp whole cloves

Brine
3/4 gallon water
1  cup canning and pickling salt or kosher salt
½ cup brown sugar
2 Tbsp pickling spice blend
3 crushed garlic cloves
1 cinnamon stick
1 bay leaf
½ tsp ground ginger
3-5 pound beef brisket
ice cubes

Corned Beef
2 Tbsp pickling spice blend
1 bay leaf
1 onion halved
1 head cabbage quartered (optional)

Instructions
Combine all of the pickling spice ingredients in a small bowl. Store in an airtight container.

Make the brine by putting all of the brine ingredients, except the brisket and ice cubes, into a pot and bring to a boil. Once it boils, take it off the heat and let it cool completely.

Put the brisket, brine, and ice cubes into a brining vessel, and keep it in the refrigerator or on ice for 5-7 days.

Once brining is finished, take the brisket out and rinse well with cold running water.
Put the brisket in a large pot with water to cover, the halved onion, 2 Tbsp pickling spice, and bay leaf.

Bring to a boil, then reduce the heat to a simmer.  Cover and cook for about 3-4 hours, adding the optional quartered cabbage during the last hour, until tender.

Notes
Plan to start this at least 5-7 days ahead of time, as that's how long it takes to brine the meat.

If you can't fit the big pot with the brisket and brine in your refrigerator, you can brine it in a 2 gallon zip top bag that is placed in a casserole dish to prevent leaks to save space. You can also brine in a bag on ice in a cooler.