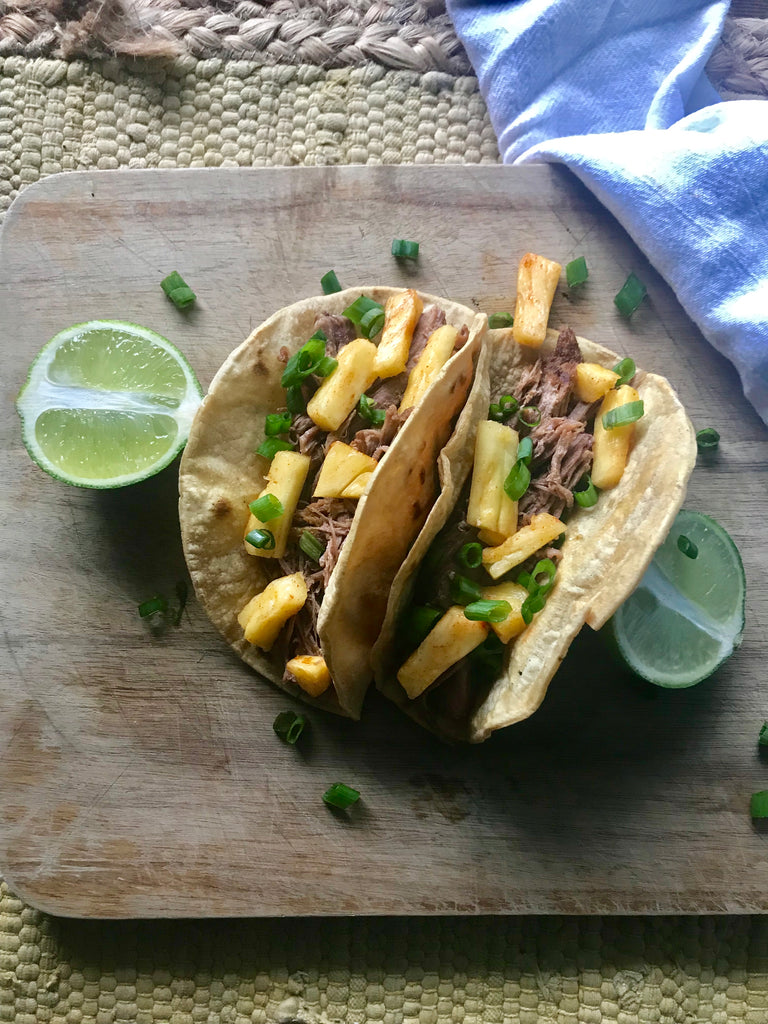 Chefpreneur Kat Arthurs has been whipping up unique Paleo, Gluten-Free and Whole30 recipes for her private chef, catering and cooking class business White Sparrow Food Company ever since she graduated from The Auguste Escoffier Culinary School of the Arts.   In 2017 Kat signed up for Pasture Provisions and she has been kind enough to feature our Colorado raised meat, egg and veggie products with her clientele and when cooking for her family.   One of her go to recipes is her Paprika Rubbed Pulled Pork featuring heritage pork shoulder raised by Toby McPartland at Colorado Pastured Pork.  We're very excited to share this delicious recipe.  Enjoy!
Paprika Rubbed Pulled Pork
2 lbs Pork Shoulder
1 Tablespoon coarse Kosher Salt
2 Tablespoons Smoked paprika
1 medium white onion, diced
1 cup chopped cilantro
Cut the pork shoulder into 2inch by 2inch cubes (does not need to be perfect, just about the same size).
Add all ingredients into slow cooker. Set on high for 4 hours and cover.
Check at 3 hours for doneness. When you can pull it apart easily, it is done.
Remove the pork from the slow cooker, and pull it apart. Save the cooking liquid and mix everything together.
**This can be made ahead of time and reheated in the oven or microwave.
**If you don't have a slow cooker, add to an oven safe baking dish with sides and cover tightly with foil. Add to preheated 275 degree oven for 4 hours.
**This can be done in a pressure cooker/instant pot too!
Avocado Cream
1 1/2 avocados
1/2 cup light sour cream
2 garlic cloves, peeled and smashed
2 tablespoons lime juice
1/4 teaspoon chipotle peppers in adobo sauce
1/8 teaspoon kosher salt
Pit and peel the avocados and place in the bowl of a food processor fitted with a blade.
Coarsely chop the garlic cloves and add all the ingredients to the bowl with the avocado.
Whirl like crazy until a smooth purée is formed.
Store in the refrigerator until you're ready to use it. Use within several days of making it.
Quick Pickled Red Onions
1 medium red onion, about 5 ounces
1/2 teaspoon sugar
1/2 teaspoon salt
3/4 cup rice vinegar, white vinegar, or apple cider vinegar
Flavorings (optional):
1small clove of garlic, halved
5 black peppercorns
5 allspice berries
3 small sprigs of thyme
1 small dried chili
Start 2 or 3 cups of water on to boil in a kettle. Peel and thinly slice the onion into approximately 1/4-inch moons. Peel and cut the garlic clove in half.
In the container you will be using to store the onions, add the sugar, salt, vinegar, and flavorings. Stir to dissolve.
Place the onions in the sieve and place the sieve in the sink. Slowly pour the boiling water over the onions and let them drain.
Add the onions to the jar and stir gently to evenly distribute the flavorings
The onions will be ready in about 30 minutes, but are better after a few hours. Store in the refrigerator. They will keep for several weeks, but are best in the first week.
Pineapple Cilantro Salsa
2 cups diced fresh pineapple
6-8 stems fresh cilantro, finely chopped
1/4 cup finely diced white onion
1 serrano pepper, seeded and finely chopped — for spicy salsa
1/2 green bell pepper, seeded and finely chopped — for mild salsa
Zest and juice of 1 lime
sea salt, to taste
freshly-ground black pepper, to taste
Place all ingredients into a large bowl. Stir together until evenly distributed.
**If desired, blend on medium speed in a blender until smooth with a few larger chunks remaining, or until desired consistency is achieved.
Serve immediately with tortilla chips or top your favorite taco. Store in an airtight container in the refrigerator for 3-5 days.
Classic Pico
1 1/2 pounds ripe roma tomatoes, cut into 1/4- to 1/2-inch dice
Kosher salt
1/2 large white onion, finely diced (about 3/4 cup)
1 to 2 serrano or jalapeño chilies, finely diced (seeds and membranes removed for a milder salsa)
1/2 cup finely chopped fresh cilantro leaves
1 tablespoon lime juice from 1 lime
Season tomatoes with 1 teaspoon salt and toss to combine. Transfer to a fine mesh strainer or colander set in a bowl and allow to drain for 20 to 30 minutes. Discard liquid.
Combine drained tomatoes with onion, chilies, cilantro, and lime juice. Toss to combine and season to taste with salt.
*Pico can be stored for up to 3 days in a sealed container in the refrigerator.
About Chef Kat Arthurs and White Sparrow Food Company
People often ask me "What is your favorite thing to cook?" or "What is your specialty?" I love to cook delicious meals from all traditions and from all over the world. Keeping it simple, fresh and full of spices and seasonings is what I love. Exploring new flavor combinations and textures is what I enjoy and I hope my clients do too!

Experimenting is my thing. Gluten free, dairy free, Paleo and Vegetarian dishes are my passion. I thrive on changing people's perceptions on what can taste good. Can't eat cheese? Let me WOW you with my dairy free meals!

Chef Kat Arthurs offers a variety of personal chef, catering and cooking class experiences.   If you are interested in her services or seeing more of her delicious recipes please see her website and social media links below.   If you are inclined to sign up for any of Kat's culinary services (highly recommended) mention Pasture Provisions and she'll feature our products at your culinary event.

White Sparrow Food Company Website
Facebook
@whitesparrowfoodcompany
Instagram
@whitesparrowfood
@kat_arthurs_chef