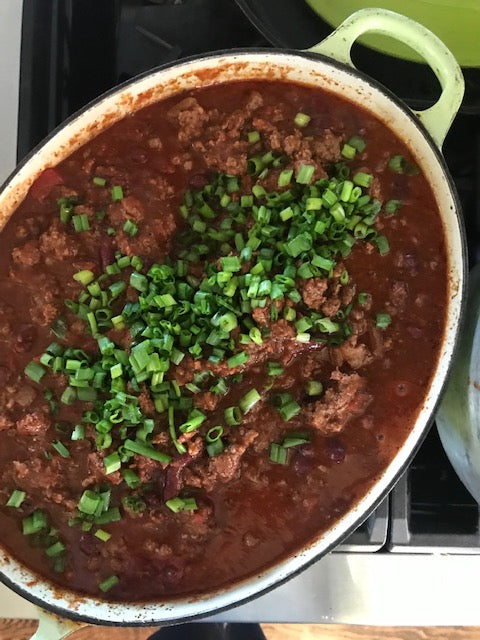 Chipotle Chili Recipe
1 pound grass-fed ground beef
1 pound pasture-raised bulk Pork chorizo sausage
1 medium onion, chopped
1 teaspoon salt
1 teaspoon ground pepper
1 heaping tablespoon smoked paprika
1 heaping tablespoons chili powder (mild, medium or hot)
2 teaspoons chipotle chili powder or 2 canned chipotles, chopped
1 8 oz can of roasted tomatoes
1 8 oz can of tomato sauce
1 8 oz can of kidney beans, drained and rinsed
½ cup scallions, chopped
In a large pot, heat over medium high heat and brown the meat and onions. Stirring occasionally to brown and cook all the meat.
Add the remaining of the ingredients through tomato sauce.
Turn heat to a simmer, cook for 10 minutes uncovered.
Add beans and scallions, stir to combine. Serve and enjoy.
Add shredded cheese, chopped red onions, sour cream, hot sauce or tortillas chips to the top!
Recipe by Chef Kat Arthurs, White Sparrow Food Co