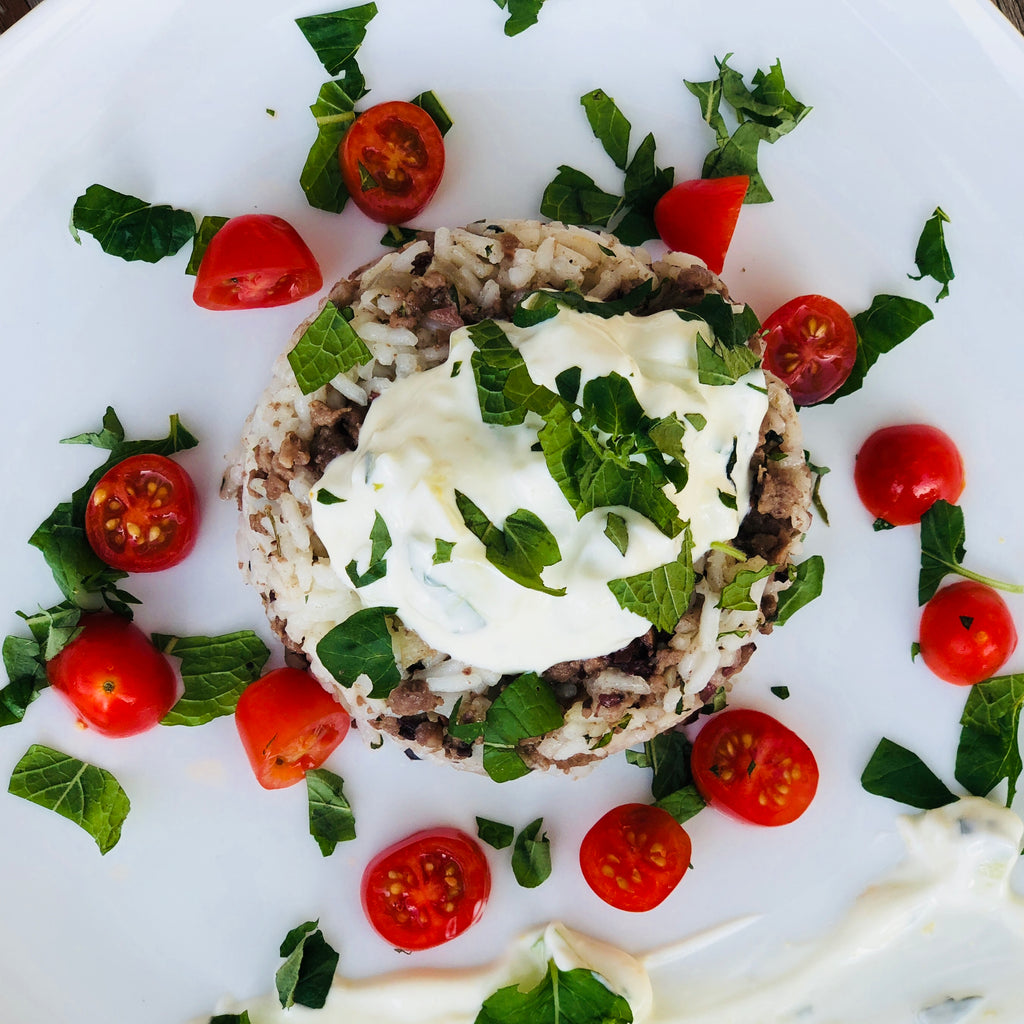 As summer approaches I always love the vibrant flavors of Greek dishes.   Here's a super simple ground lamb or mutton dish that is sure to delight.   
Ground Lamb and Rice Ingredients 
1# Colorado Ground Lamb or Mutton
1/2 Medium Yellow Onion Diced
3 Cloves Garlic Minced
Fresh Oregano Chopped (~20 leaves from a couple of stems) 
3TBSP Olive Oil
Fresh Mint Chopped (4-5 leaves)
Salt to taste
Pepper to taste
1 Cup Dry White Rice (cook according to package directions)
Optional Ingredients 
Feta Cheese Crumbles
Cherry Tomatoes Sliced 
Directions
Cook rice according to package directions
Heat Olive Oil in large skillet over medium high heat
Add Onion and Garlic and Sauté for 2 min
Add Ground Lamb or Mutton and cook until all the meat is browned
Stir in Chopped oregano and add salt and pepper to taste - continue cooking for 1 minute
Turn off stove and stir in half the chopped mint (reserve remainder for garnish)
Add cooked rice to skillet and combine all ingredient
Plate and garnish with remaining mint and drizzle a little olive oil
Optionally garnish with a big dollop of tzatziki sauce and serve with feta crumbles and sliced cherry tomatoes.
Quick Tzatziki Sauce
Ingredients
1/2 Cup Greek Yogurt
1/2 Cucumber Diced 
Zest of 1/4 a Lemon
1 TBSP of Minced Dill or 1TBSP of Dill Pickle Juice 
Salt
Directions
Peel Cucumber and cut in half lengthwise.   Remove seeds with a spoon and dice into 1/4 to 1/2 in chunks

Place cucumber in bowl and salt to taste

Add yogurt and stir in lemon zest and dill or dill pickle brine

Add more salt or lemon zest to taste
Ideally you chill this, but let's be real just serve it right away on top or as a side to the dish above.