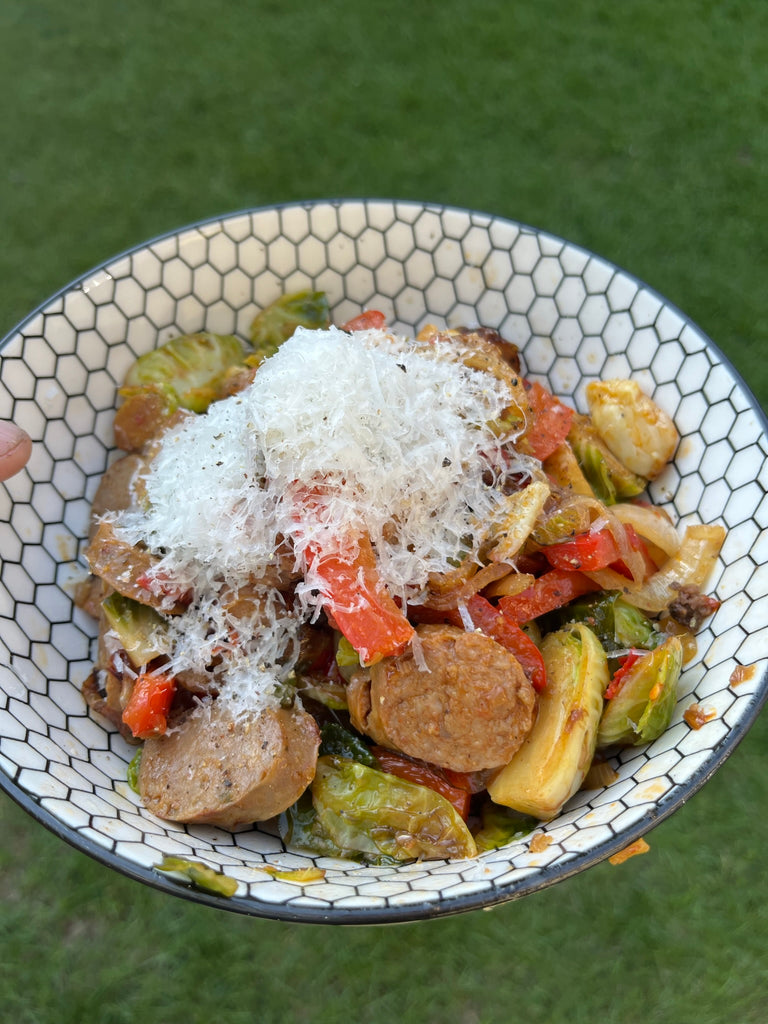 Ingredients 


1lb Pasture Provisions Hot Italian Links
1lb Organic Brussel Sprouts 
4 Cloves Garlic Crushed or Minced 
Half Yellow Onion Sliced
1 Medium Red Pepper Sliced
1/4 Cup White Wine or Chicken Broth
4 Tbsp Olive Oil
1 tsp Salt
1/2 tsp Black Pepper 
Optional 1/2-1 tsp crushed red pepper
Freshly grated Parmesan 
Directions
Trim stems and halve Brussel Sprouts 
Heat 2 Tbsp Olive Oil over medium heat in large cast iron skillet or Dutch Oven.
Cook Italian sausage links turning 4 times until cooked through.    Remove sausage to cool and slice into rounds.
Add Garlic, Onion and Pepper to pan and sauté for 2-3 minutes.   Remove from pan.
Add remaining 2 Tbsp Olive Oil to pan and bring to temp.    Add Brussel sprouts to pan and sauté until outer leaves slightly brown.
Deglaze pan with wine or broth and cover skillet to steam Brussels 3-5 min until they reach desired tenderness.
Add sliced sausage, onions, peppers and garlic back to pan and mix together.    
Add salt, pepper and crushed red pepper.
Serve in bowls with freshly grated Parmesan