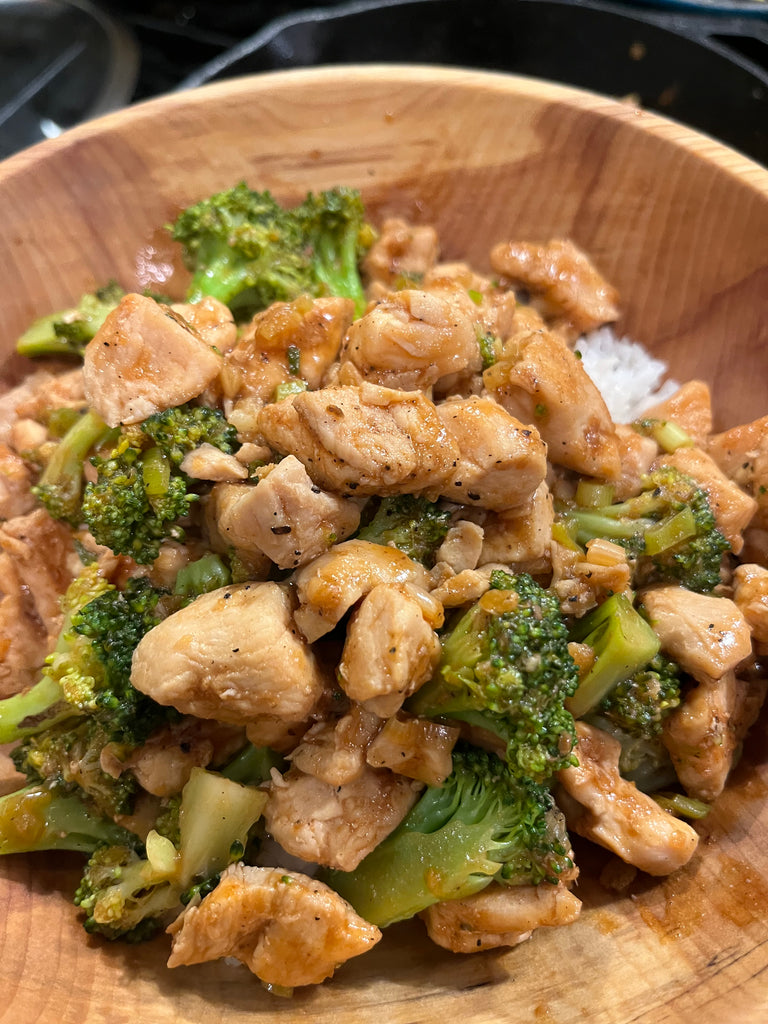 So quick and easy it's sure to become one of your  go to recipes.
Ingredients
1lb Greener Pastures Chicken Breast
1 Head Broccoli cut into Florets 
2 Cloves Garlic (diced or crushed)
1tsp Fresh Grated Ginger
1Tbsp Soy Sauce 
1Tbsp Coconut oil
2-4 Green Onions (whites and greens) chopped
4oz Chef Sherri Bourbon BBQ
1tsp Salt
Fresh ground black pepper 
1 Cup Rice (follow directions and start rice as the chicken marinades)
Directions
Cut chicken into bite sized pieces (drain and pat dry with a paper towel before cutting)
Put chicken in bowl and mix in garlic, ginger, soy sauce, salt, pepper and marinade for 20-60 minutes in fridge
Steam broccoli in a separate pot for 5 minutes to make tender
Heat coconut oil in large skillet over medium high to high heat until it just hits the smoking point
Brown chicken in coconut oil until fully cooked (do this in batches if you don't have a large enough pan to keep the chicken from crowding)
Add sliced green onions to chicken and cook for 1 min
Add 4oz Chef Sherri Bourbon BBQ and stir to coat all the chicken.  Simmer over medium heat for 2-3 minutes.
Add steamed broccoli and mix with meat and bourbon bbq sauce.
Serve over rice.