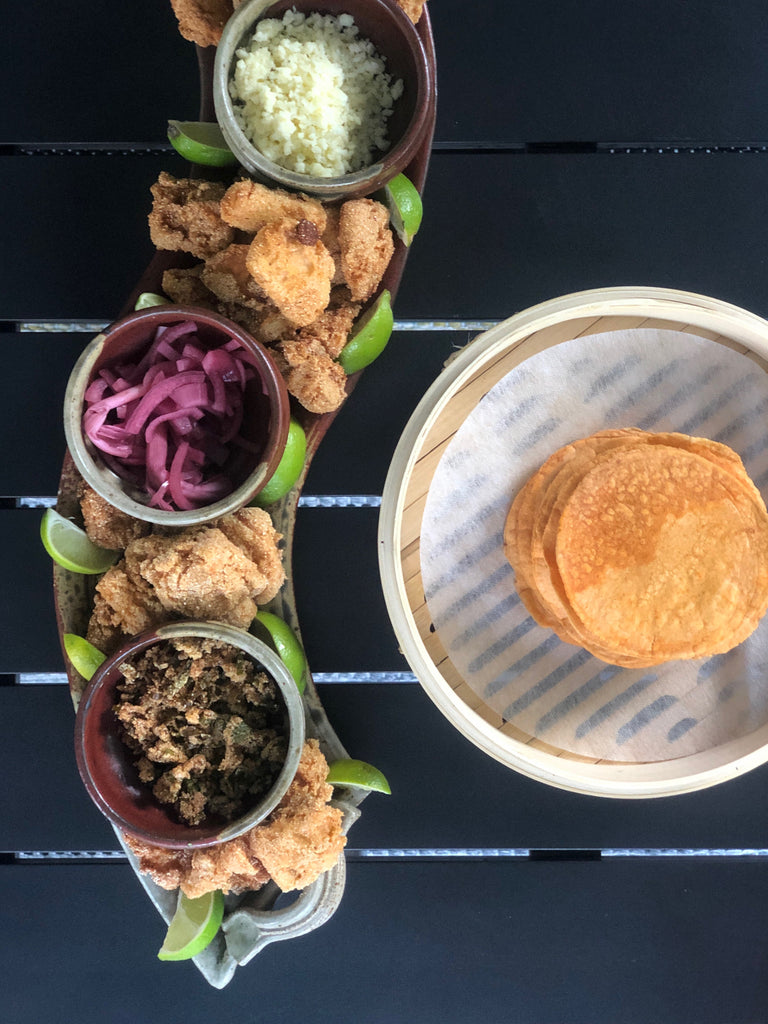 Whether fried or grilled fish tacos make people smile.    This twist on fried fish tacos incorporates the tangy heat of buffalo sauce along with traditional taco a

ccoutrements that will surely wow your guests.    For the ultimate crowd pleaser make your own tortillas using masa harina and a tortilla press (for color and flavor I like to add 1 tsp smoked paprika, 1 tsp chili powder and 1 tsp salt to the masa)

Good food starts with good ingredients, so please look for fish caught in sustainable fisheries and organic ingredients where possible.   

Serves 4  

Total time ~90 min

Ingredients 

12oz - Favorite Buffalo Wing Sauce (I like Blonde Beard Black Magic, Blonde Beard Holy Hell or making my own with Franks Red Hot)

2-3 Cups Frying Oil (grape seed or sunflower)

Beer Batter Ingredients

1 1/2

 

cups all-purpose flour

1 1/2

 

teaspoons baking powder

1 1/2 cups Cornmeal 

1

 

teaspoon smoked paprika

1/2 teaspoon cayenne pepper

1/2 teaspoon chili powder

1/2

 

teaspoon cumin

 1 teaspoon 

kosher salt

1/2 teaspoon ground black pepper

1

 

12-ounce bottle of beer (I prefer Mexican Ales or Lagers like Modela, but most any beer will work)

Taco Accoutrements (all optional, but recommended)

Cilantro Lime Crema (4oz Sour Cream combine with 2tbsp chopped cilantro and juice of 1/2 to 1 lime - add zest of 1 lime for extra pop)
Remaining Buffalo Sauce
4oz Cotija or Queso Fresca Cheese (crumbled)
Pickled Red Onions
2 Limes Cut into Wedges
1 Bunch Cilantro Chopped
Green onion tops or chives chopped

Directions 

Slice Mahi Mahi Filets into 1/4" thick slices that are between 1-2" long.

Add sliced Mahi Mahi to a glass mixing bowl or other shallow glass or plastic bowl, and pour 4-6oz of Buffalo Sauce over Mahi Mahi.   Gently mix to coat all pieces of Mahi Mahi in Buffalo Sauce.    

Place in fridge while you do all other prep.

Make the batter: whisk together the flour, baking powder smoked paprika, cayenne, chili powder, cumin, 1 tablespoon kosher salt, and freshly ground black pepper to taste. Whisk in the beer and set the batter in the fridge for 20 minutes.   You want the batter to be roughly the consistency of pancake batter, so add more flour or beer if the consistency isn't right.

Prepare any Taco accoutrements and place in small serving bowls.   Store in refrigerator until tacos are ready to serve.

Start warming 1-1 1/2 inches of oil in a 6-8" cast iron frying pan or small pot over medium heat to ~375 degrees.   Make sure the oil doesn't fill more than half of the pan.   

Remove the fish and batter from the fridge.

If you don't have a thermometer test oil temperature by carefully putting a pea sized drop of batter into hot oil.   Too hot and it will aggressively fry and brown very quickly and if too cold very few bubbles will form on batter.

Dip 5-6 pieces of the Buffalo Sauce marinated fish in the beer batter, shaking off any excess batter.    Just want a light coating. 

Roll fish in Corn Meal in that is in a separate shallow dish.

Carefully lower fish into the oil to fry in small batches 5-6 pieces. Be sure not to overcrowd the pan, and keep an eye on the temperature, letting it return to ~375 degrees between batches. 


Pro-tip:   Test 1 piece of fish for ~2-3 minutes in oil until golden brown.   Remove and carefully cut in half to make sure fish is cooked.   This way you know roughly how long to cook each batch.

Fry the fish until golden brown flipping once with kitchen tongs if necessary.   Cook for ~2-4 minutes depending on the size of the pieces. Transfer the fish using tongs to a paper towel-lined plate and season immediately with the fine grain salt. If not serving immediately keep finished pieces warm in a 200 degree oven on a cooling rack set over a sheet pan

Serve the tacos with cilantro crema, pickled red onions, cheese, hot sauce, lime wedges and any other accoutrements for garnishing.