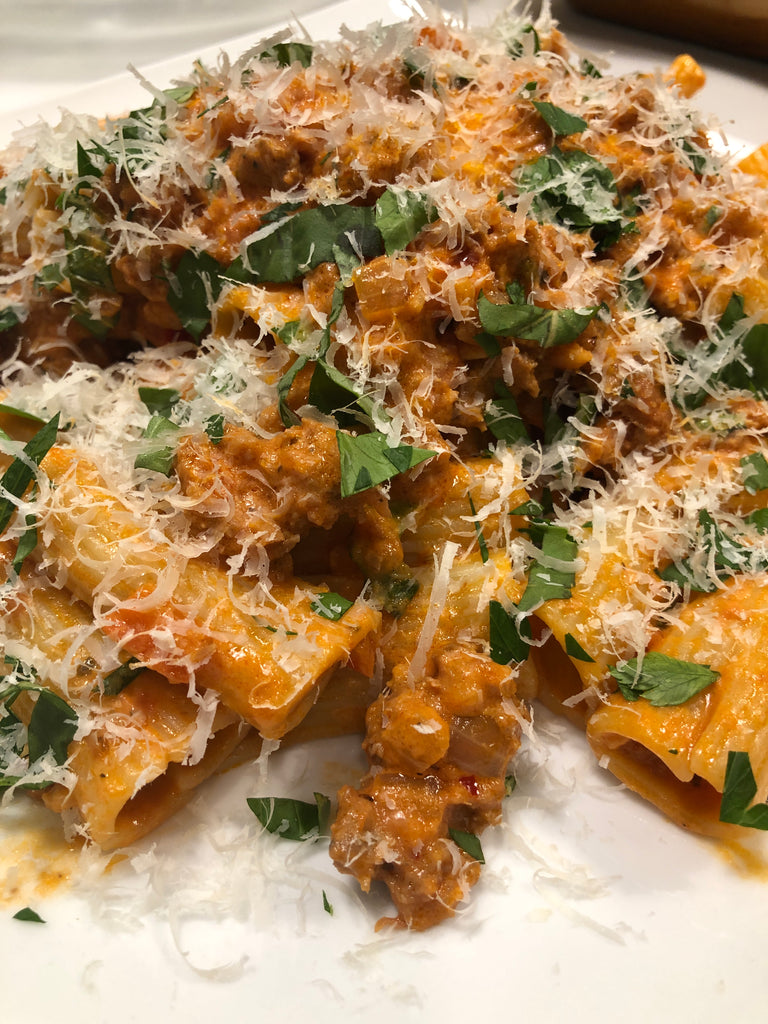 Nothing beats your Great Grandmas pasta sauce recipe passed down through the generations, but if you don't have one of those tomato sauce splattered note cards this recipe is a guaranteed winner.
With this straight forward recipe you'll have a robust pasta sauce on the table in less than an hour with just a few ingredients.
Ingredients 
1 pound pasta (I like thick pastas for this recipe)
1-2 pounds bulk sweet or hot pasture-raised Italian sausage (depends on how meaty you like your sauce)
4-6 cloves chopped garlic
1 medium chopped yellow onion
1 medium chopped Red Bell or your favorite Sweet Italian pepper variety 
28 oz can whole plum tomatoes or crushed tomatoes
6 oz tomato paste
1 cup heavy cream 
1 tsp  salt
1/2 tsp dried oregano
2 Tbsp olive oil
Reserve 2 cups pasta water
1 cup grated Parmiginao or Pecorino
1/4 cup fresh chopped basil
Optional ingredients
2 Tbps Chopped Parsley for garnish
Crushed Red Pepper if you want to add more heat 
Instructions
Start heating water for pasta in stock pot.   Add a couple of Tbsp of salt to help flavor the pasta and bring to a rolling boil.
Chop onion, pepper and garlic
Pulse plum or crushed tomatoes in blender or food processor for 2-3 second or crush with hands until desired consistency.

Saute onions, peppers and garlic with 2Tbsp Olive Oil on medium heat for 4-5 minutes to soften.

Add bulk Italian sausage to pan with onions and garlic, and break apart sausage. 

Add salt, crushed pepper (optional), oregano, crushed tomatoes, and tomato paste to the sausage and stir it all together. Cover and cook on medium to medium low for 30 minutes.  Should be gently bubbling when you lift the lid.

Add pasta to boiling water and cook according to package. Before draining pasta reserve 2 cups of pasta water by ladling into a bowl or large measuring cup.

Remove lid from sauce at 30 minutes and add 1 cup of pasta water. Stir together and cook for 5 more minutes uncovered.

Turn heat to low and add cream. Stir together well and cook for 2 more minutes. Taste sauce and adjust salt or pepper if necessary.  

Place cooked and drained pasta in a large serving bowl and spoon the sausage sauce all over the pasta.   Do this with ladle in batches and mix until pasta is coated to desired consistency.   Add more of the reserved pasta water if the sauce has become too thick.
(Note: about 1/4 to 1/3 of sauce should remain which can be used if people want more sauce on there serving, saved for leftovers or as a dip for toasted bread.
Last step is to mix in chopped basil and serve in bowls or plates.

Sprinkle with Parmesan and option parley to garnish.