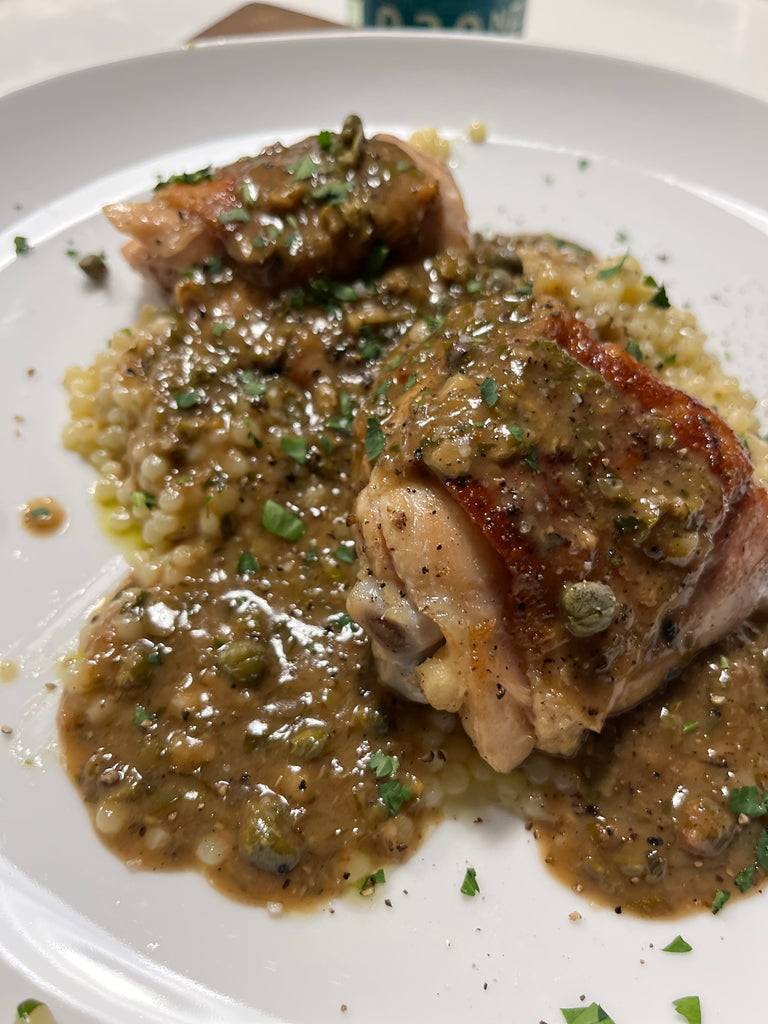 If you love bone-in chicken cuts like leg quarters, thighs and drums you've definitely run into the challenge of having an under cooked center and an over cooked outer.   Those flavor boosting bones create heat barrier that can keep the meat from fully cooking in the center of the cut especially when grilling or pan frying.   This is why we love to sous vide the bones-in cuts, which gives you perfectly cooked chicken inside and out.
This recipe takes a little more prep and cooking time, so plan accordingly.
Serves 2-3
Ingredients:
2-2.5lb Pasture-raised Bone-in Thighs or Leg Quarters
2 small to medium Lemons
1/2 Cup Dry White Wine
2 Cloves Garlic Minced
2 TBSP Capers Chopped
1 TBSP Sage Chopped
4 Sprigs of Thyme
2 TBSP Parsley Chopped
6 TBSP Butter or Ghee m
1 TBSP Corn Starch
Salt 
Pepper
 Directions:
Set sous vide immersion circulator to 150 degrees (use hot water from sink to fill sous vide tank to give yourself a jump start)
Season both sides of the chicken with salt and pepper.  Zest 1 lemon and sprinkle over chicken.
Prep sous vide bag and place 2TBSP of Ghee or Butter in bag.   Lay chicken flat in bag and add 2 sprigs if thyme.   Seal bag and immerse in sous vide tank for 90 minutes.  


With roughly 15 minutes remaining in sous vide begin to prep ingredients for Lemon Butter Sage Caper Sauce.
Zest Second Lemon
Chop Herbs (Garlic, Sage, Thyme, Parsley)
Juice Lemons - Roughly 1/4 Cup (3TBSP)
Mix 1TBSP Corn Starch with 1TBSP cold water in small bowl
Once chicken is finished in sous vide, carefully remove to plate lined with paper towels.   Pat chicken until dry on all sides.
Keep the juices from the sous vide bag as this will act as the broth in the sauce.
Heat 2 TBSP Ghee or other high heat fat (duck fat) in large frying pan over medium high heat until almost at smoke point.  Make sure the pan is evenly coated with ghee or fat, otherwise the chicken skin will stick to the pan. 
Sear the chicken skin side down for 2-3 minutes until the skin browns and crisps.   Flip chicken for another 1-2 minutes.
Remove chicken to plate.
Reduce heat to medium and add garlic, sage and thyme until fragrant (1 min).   Careful not to burn.
Deglaze pan with lemon juice, lemon zest and wine.   Scrape all the bits off the pan and bring to a simmer for about 5 min to reduced volume by roughly half.
Add juices from Sous vide bag and simmer for another 4-5 minutes to reduce volume by roughly half again.
Add capers and Parsley
Slowly pour no more than 1/4 of your cornstarch into pan at a time.   Brings to simmer and stir.   Repeat this step until you reach desired consistency.   
Add remaining 2TBSP of butter or ghee to sauce and incorporate into sauce.
Salt and Pepper sauce to taste.
Serve chicken over creamy polenta, rice or couscous and ladle Lemon Butter Sage Caper Sauce over chicken.