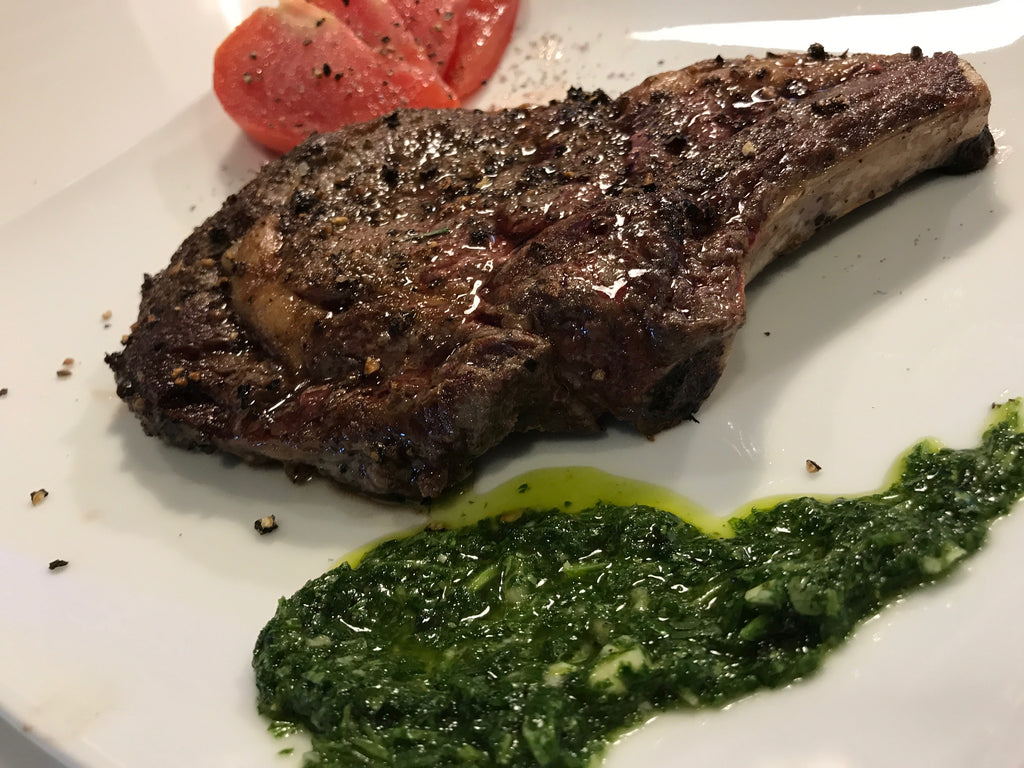 Steak with Chimichurri is very simple way to prepare a beautiful grass-fed steak with a vibrant sauce honoring Argentinean cuisine.    This is one of my favorite preparations when I'm cooking for a larger group because it doesn't take a lot of prep or ingredients.
Serves 2-8 (Depends on the Size or QTY of cuts you use)
Ingredients
Steak

For smaller servings use grass-fed Ribeye, New York Strip, Sirloin or Sirloin Tip Steak or any other steak
For larger servings cook multiple of the cuts above or use a larger cut like grass-fed Flank, Flat Iron or Tri-Tip Steaks
Chimichurri Sauce (Serves ~4, so double for larger groups)

1 Cup Fresh Flat Leaf Parsley (pack in measuring cup)
4 Cloves Garlic
2 Tbsp Fresh Oregano (can sub 2 tsp of dried oregano)
1/2 Cup Olive Oil
2 Tbsp of Red Wine Vinegar (can sub with white or rice wine vinegar)
1 teaspoon Salt
1/2 teaspoon Pepper
1/4-1/2 teaspoon (adjust based on preferred heat)
Directions
For Methods of Prepping, Cooking and Finishing the Steak see "Cooking the Perfect Steak" blog post. 
Chimichurri Sauce
Chop all the herbs and garlic and stir into olive oil, vinegar and seasoning, or add all ingredients to your mini food processor and pulse until chopped and incorporated.   (Note: since the amount of sauce is fairly small I find it tough to use a food processor unless you have mini food processor).
Serve steaks whole, sliced and add the sauce to the plate with extra for dipping and drizzling.