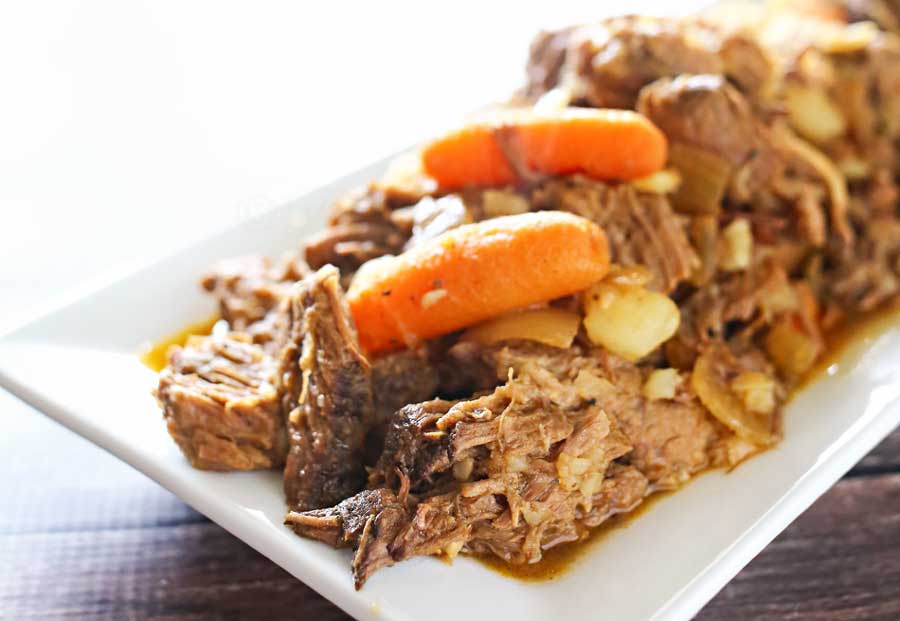 The crock pot can be your best friend in the kitchen when we want a hot meal ready after a long day.   Roast Beef is a staple of the crock pot especially as we get into the fall and winter months. 
Serves 4-8
Ingredients
Roast

- 

Chuck Roast, Rump Roast, Tri-Tip weighing ~3 pound
2 Tbsp Oil (grape seed or other med-high heat oil)

Rub

1 Tbsp Pepper
1 Tbsp Salt
1 teaspoon paprika

Crock Pot Ingredients

1 Pint Beef Broth (Homemade or gourmet from your grocers frozen meat section is best, but canned beef broth works as well)
1 Med-Large Yellow Onion sliced or roughly chopped
3 Cloves of Garlic Minced
1/2 pound Baby Carrots or Sliced Carrots (2 -3 Large Carrots)
1 teaspoon red wine vinegar (or add 1/4 cup of red table wine)
2 bay leaves

Optional Gravy

1/4 Stick Butter
1/3 Cup All Purpose Flour
Salt and Pepper to taste
Directions
After thawing (roasts can take up to 2 days in the fridge see thawing instructions) pat Roast dry with paper towel or clean rag.  (If meat is wrapped with butcher twine or butcher netting feel free to remove as its more difficult to take the netting off once cooked)
Mix Salt, Pepper and Paprika rub in small dish.   Sprinkle over all sides of the roast on a plate or cutting board and pat rub into meat.  If you have any extra seasoning throw into the crock pot.
Heat large skillet until oil is hot, near smoking point.   Sear the roast on all sides for ~1min per side to brown and create light crust. 
Set meat aside after seared on all sides (remember you searing the meat to quickly brown the meat not cook the meat through, so don't overdue this step).
Add all crock pot ingredients to crock pot and turn on.
Add seared roast to crock pot and cover (I like to scrape the brown bits and oil from the skillet into the crock pot as well)
Depending on the size of the roast you will want to cook it in the crock pot for 6-8 hours.  I usually start my roast on high for a couple of hours and then turn it down to low, but if you are going to set it and forget it determine how many hours you have until your serving time and determine if you want to set the crock pot on high (5-7 hours) or low (6-8 hours).
Check periodically as you get within an hour or two of your serving time to see if the meat is done.   You should be able to stick a fork into the meat with relative ease when its done.  You can also use a meat thermometer to see if its to temperature for a pot roast (see temperature guideline)

.

Remove the roast from the crock pot (I use tongs and/or a slotted spoon as the meat should be starting to fall apart) and loosely shred or slice the beef.  Chuck roasts tend to break down easier so I typically shred chuck roasts, but rump and tri-tip roasts can usually be sliced without completely falling apart.
Remove onion and carrots  with slotted spoon and set aside.
You can use the juice in the crock pot to drizzles over the meat and veggies or make a gravy.
For the gravy melt the butter in a medium to large sauce pan and ladle in 1 cup of juice from crock pot.  Slowly stir in flour until smooth and desired consistency (you may use more or less flour depending on desired gravy thickness). 
Add salt and pepper to taste in gravy
Serve roast beef and vegetables with bread and butter, mashed potatoes and juice or gravy for a hardy meal.