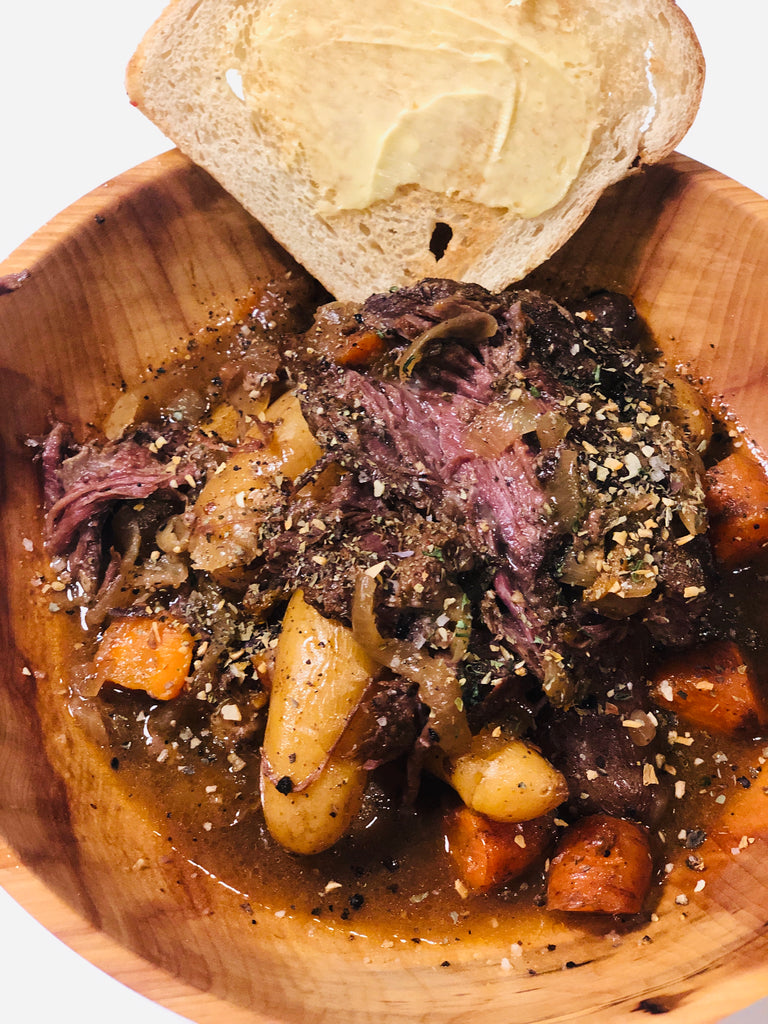 When you get a foot of snow and single digit temps before Halloween it's time to blow the dust off the crockpot.    Simple and delicious this meal is sure to warm you up on a cold winter night. 
Prep Time - 15min
Cook Time - 8-10 hours 
Serves - 4-8 (depends on Roast Size)
Ingredients:
3-5lb Grass-fed Chuck Roast - Rump Roast, Pot Roast, Shoulder Roast all work as well
1-1.5lb Fingerling Potatoes 
4-6 Carrots cut into 1" pieces
2 medium yellow onions - halved and sliced 
16oz Grass-fed beef broth 
4 Cloves of Garlic - Peeled Whole
2 Tbsp Grape Seed Oil or Beef Tallow
2 Tbsp cold water
1 Tbsp non-gmo corn starch
Salt 
Pepper
Bread
Butter
Alternate Ingredients
The Spice Guy Summit County Steak & Veggie Seasoning
The Spice Guy Roasted Garlic Blend
Parsley Chopped for Garnish
Directions
Set Crock Pot to Low 
Layer Bottom of Crock Pot with Potatoes, Carrots, Onions and Garlic
Pour beef broth over veggies 
Mix cornstarch with cold water and pour over veggies
Pat roast dry with a paper towel
Liberally season roast on all sides with salt and pepper - For extra flavor boost use The Spice Guy Summit County Steak and Veggie Seasoning and Roasted Garlic Blend
Heat a large cast iron or frying pan over high heat with 2Tbps oil or tallow
Sear Seasoned Roast for 2-3 min on each side to form crust on meat.
Place seared roast on top of veggies in crock pot
Pour oil from frying pan over roast
Cover and cook for 8-10 hours over low heat
You can shred the meat or break it into individual sized chunks
Serve potatoes, carrots and meat in bowl and ladle broth over meat
Salt and Pepper to taste if needed
Optional - Garnish with parsley 
Buttered bread is this dishes best friend