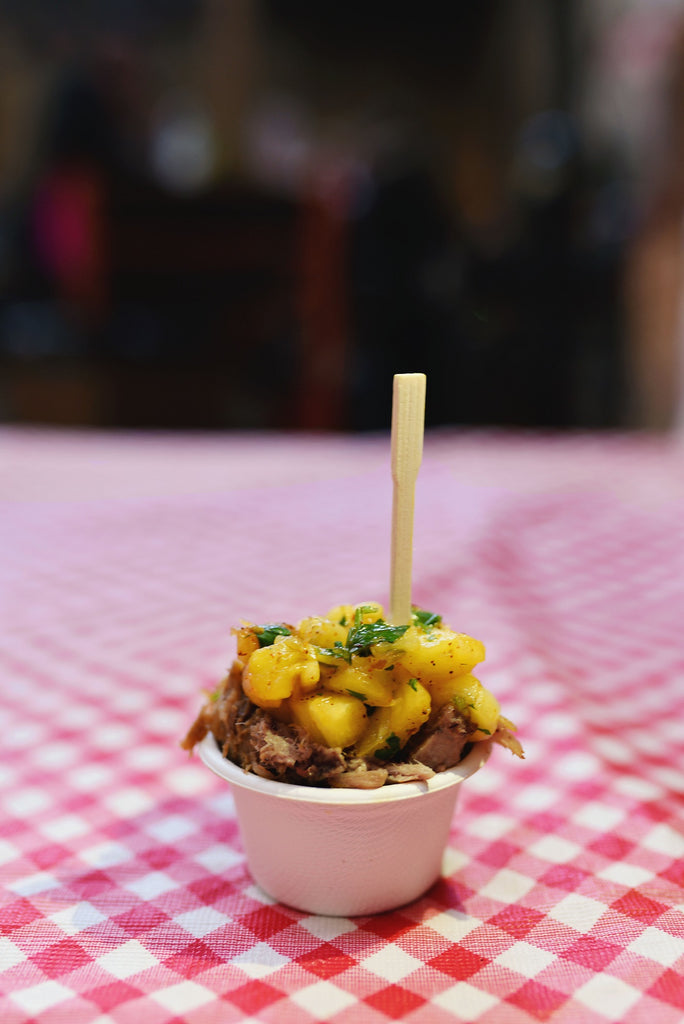 The recipe below was originally named Slow Cooked Fajita Pulled Pork Tacos, but after Chef Kat Arthurs spend nearly 24 hours cooking 40+ pounds of pork shoulder in prep for Denver Spring Flea we aptly named them FLEA-nitas.    The recipe below features heritage breed pork that we get from Colorado Pastured Pork in Hotchkiss, CO and is spiced up with The Spice Guy Fajita Seasoning (universal in almost any Mexican dish).   A great dish for entertaining.

FLEA-nitas Ingredients
~3 lbs Bone In Pork Shoulder
2 tablespoons The Spice Guy Fajita Seasoning
1 Yellow Onion, sliced
1 Red Bell Pepper, sliced
1 Yellow or Orange Bell Pepper, sliced
2 tablespoons Cilantro, chopped
2 teaspoons Red Pepper Flakes *optional for more heat
Instructions:
1. Rub the Pork Shoulder with The Spice Guy Fajita Seasoning on both sides. Place in slow cooker or instant pot.
2. Add Onions and Peppers to slow cooker. Set to cook on high for 4 hours.
3. Shred the pork with two forks. Add Cilantro and Red Pepper (if desired).
4. Serve warm with tortillas or rice and enjoy!
**Optional: Sear the rubbed pork shoulder in a hot cast iron pan for 2 minutes on each side before putting into the slow cooker.
Pineapple & Red Onion Slaw
1 Pineapple, cut into small bite sized pieces
¼ cup Red Onion, thinly sliced
1 teaspoon The Spice Guy Fajita Rub
2 tablespoons Cilantro, chopped
1 tablespoon Avocado oil
Salt & Pepper, pinch of each
Instructions:
1. Combine everything together.
2. Place a heaping spoonful on top of each taco. Dig in!
*Can be prepared ahead of time and chilled.
Serve with a pineapple slaw, radishes, and warm tortillas.
Recipe by Kat Arthurs - White Sparrow Food Co
For catering, personal chef or cooking classes by Kat please email her at chef@whitesparrowfoodco.com and mention Pasture Provisions.
Photo cred - Bonni Pacheco www.bonnipacheco.com