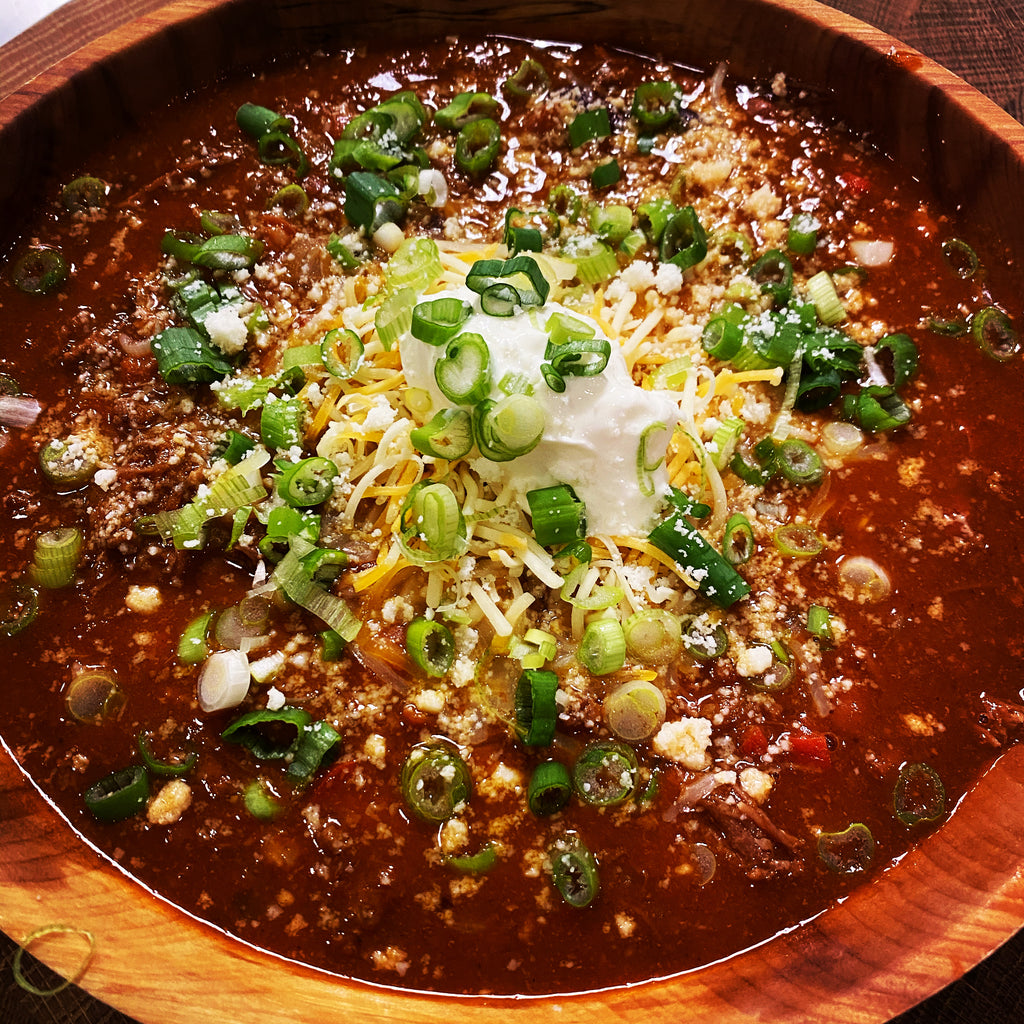 A triple threat of Meats packs extra flavor and texture to this down home meal.   

Warning this makes a big batch, but who doesn't enjoy left overs.    If you still have some left after a few days just freeze in quart or pint jars days for that clutch meal down the road.

Ingredients:
1-2 Tbsp grape seed oil or tallow
2 Tbsp olive oil
1 medium/large yellow onion diced
1 red pepper diced
4 garlic cloves minced
1 pound grass-fed ground beef
1 pound pasture-raised pork chorizo
2-3 pound grass-fed beef short ribs
4 cups beef broth
1 16 ounce can organic tomato sauce
1 24 ounce can crushed tomatoes
2 15 ounce cans pinto beans or my favorite chili beans from @naturalgrocers
1 15 ounce can kidney beans
1 15 ounce can black beans
6-8 Tbsp chili powder
1 tsp oregano
1 Tbsp cumin
1 Tbsp ground coriander
1 Tbsp salt
1/2 to 1 tsp cayenne
1/2 to 1 tsp cinnamon
Toppings of your choice
Optional Ingredients:
4 Tbsp unflavored beef collagen (stir this in about 5-10 minutes before serving).    Adds a really nice texture to the sauce let alone all the great health benefits.

Directions:
1. Prepare the short ribs the morning of or day before you make the chili. First salt and pepper the short ribs and sear in cast iron skillet with 1-2Tbsp grape seed oil or tallow for 1-2 min per side.

2. Add 1 cup Beef Broth and 1 cup water to Slow cooker. Turn to low and cook the beef short ribs for 8-10 hrs.
(They don't need to be fully submerged, but you may want to flip them once or twice during the cook.)

3. Once short ribs are done and the meat easily separates with a fork. Remove from crock pot and let cool enough to shred all the meat and discard any bones, fat or connective tissue. Set meat aside to add to chili later.

4. Using a fat separator strain out the juices from the crock pot and save. I like to keep a couple Tbsp of the fat to add into the chili.

5. In a 8qt or larger pot add the olive oil or use the fat from the crock pot and turn to medium high heat. Add the onion, bell pepper and garlic and sauté until almost tender. Remove and set aside.

6. Add in the ground beef and pork chorizo and cook until browned.

7. Add cooked veggies and shredded short rib meat back in once ground meat is browned.

8. Add in the remaining 3 cups of beef broth plus reserved crock pot liquid. Stir in tomato sauce, crushed tomatoes, beans (I don't drain, but up to you), chili powder, oregano, cumin, coriander, salt and cayenne.
Bring to a boil and reduce to a simmer until it starts to thicken and flavors combine about 30-45 min

Serve with favorite toppings.